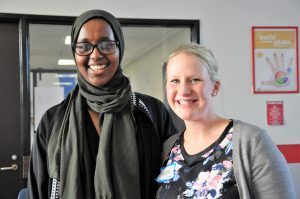 On December 1, the study, "Impact of an East African Mother-Daughter Physical Activity Program and Co-Designed Activewear" (a follow-up to Thul and colleagues' 2013-15 study, "Impact of Culturally Sensitive Apparel Co-Design on the Physical Activity of East African Adolescent Girls"), held a "graduation party" at the Cedar Riverside Community School in Minneapolis to celebrate the completion of their year-long, ground-breaking study.  The study introduced young East African girls and their mothers to ways to engage in healthy living and included the design and production of culturally sensitive activewear.
The study was conducted by:
Chelsey Thul, Ph.D., lecturer in the School of Kinesiology, together with:
Muna Mohamed, kinesiology graduate student;
Elizabeth Bye, Ph.D., professor and department head of the Apparel Design Program in the College of Design;
Robin Carufel, apparel design graduate student;
Jennifer Weber, community partnership coordinator and student activities director, Cedar Riverside Community School; and
Mary Marczak, director of Urban Family Development and Evaluation, U of M Extension.
Beginning last January, East African daughters and their mothers in the Cedar-Riverside neighborhood met every Monday evening for 10 weeks at the People's Center to participate in physical activities (e.g., basketball, yoga, strength training), learn about healthy eating, prepare and eat a healthy snack together, and design their own culturally appropriate physical activity outfit. They also learned sewing basics, including how to sew on a button, use sewing machines, and sew a bag to carry their activewear. After the weekly programming ended and while the activewear was being produced, the program facilitated every other month field trips to the Science Museum, Minnesota Zoo, and YWCA that continued to incorporate physical activity and healthy eating.
At the graduation, the daughters and mothers had fun revealing and wearing their new outfits, enjoying a celebratory meal and cake, receiving program completion certifications, and opening their thank you gifts including an additional gym bag, athletic shoes, and a three-month family gym membership.
This project is supported by a grant from University of Minnesota Extension. Survey data was collected throughout the program. Additionally, focus groups were conducted with the daughters and mothers prior to the graduation to learn about their experiences with the program, as well as the impact the physical activity and nutrition lessons and experiences and new activewear have had on their healthy living. The data will be analyzed this spring…Stay tuned for the results!