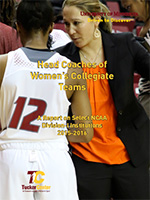 The Tucker Center for Research on Girls & Women in Sport at the University of Minnesota's School of Kinesiology, in collaboration with the Alliance of Women Coaches, is releasing today the fourth annual Women in College Coaching Report and Report Card, coinciding with National Girls & Women in Sport Day on February 3, 2016. 
In the more than 40 years since the passage of Title IX, female sport participation is at an all-time high, but the percentage of women coaching women at the collegiate level has declined from over 90 percent in 1974 to a nearly all-time low today of 40 percent, a number that appears to have leveled off in the last decade. This annual report card was created to increase awareness of the issue while helping increase the percentage of women in the coaching profession, and to start a national dialogue, says Dr. Nicole M. LaVoi, co-director of the Tucker Center. The report assigns letter grades A -F to institutions based on the percentage of women head coaches of women's teams, providing a visible mechanism of accountability at the institutional level.
To read the full report, visit http://www.TuckerCenter.org.  espnW provides additional coverage of the report launch online.