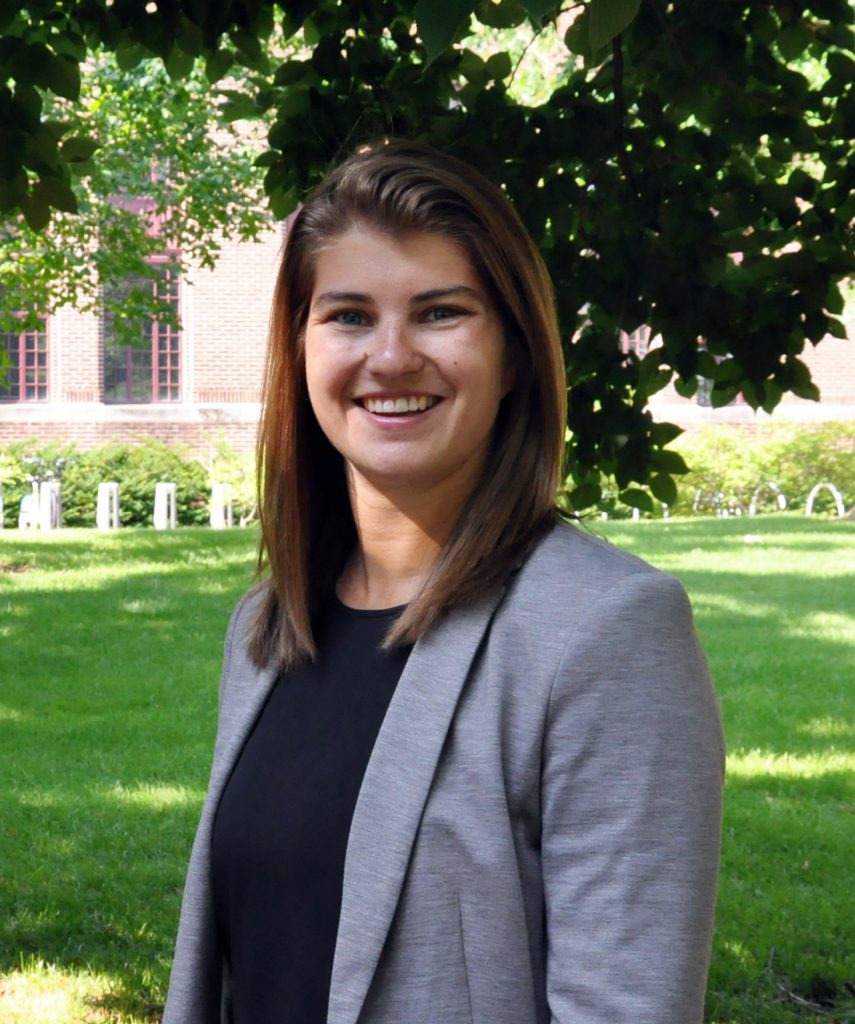 Meet Courtney Boucher, the three-time recipient (2019, 2020, 2021) of the Pam Borton Endowment for the Promotion of Girls and Women in Sport Leadership. Boucher is a PhD student at the School of Kinesiology, studying Kinesiology with an emphasis in Sport Sociology. She received her masters from the School of Kinesiology in the spring of 2019, studying hiring practices of NCAA Division-I athletic directors. Before her graduate studies, Boucher was the Assistant Hockey Coach at her alma mater, Gustavus Adolphus College, and graduated from Gustavus with a BA in Chemistry and a minor in Political Science where she also played hockey.
Thanks to the support of the Pam Borton Fellowship, Boucher has been able to actively participate in and advance the Tucker Center for Research on Girls & Women in Sport (Tucker Center) research initiatives.
"I'm so grateful to have received the Pam Borton Fellowship and the incredible opportunities that it affords," Boucher said. "This prestigious award will allow me to gain more practical experience while working in the Tucker Center."
Boucher's time spent working in the Tucker Center has shaped her doctoral experience, and helped her refine her research goals.
"The Tucker Center prides itself in doing research that counts," Boucher said. "We don't do research for the sake of doing research—we always have the end in mind. Our goal is always to better the lives of girls and women through sport and physical activity. We often get to see and hear about the real-life impact we are making, and this continually motivates me and the rest of the team in our research endeavors."
Not only has this fellowship experience helped Boucher hone her research skills, it's also given her an even greater perspective on the work she wants to do, and helped her make connections in her field of study.
"I've enjoyed working closely with and learning from Dr. LaVoi while researching issues around women in sport leadership," Boucher said.
And, being a part of the Tucker Center team allowed her to strengthen and extend her masters thesis findings.
"I utilized some of the data the Tucker Center has collected for the Women in College Coaching Report Card project when I was putting together my master thesis," Boucher said. "I looked at the hiring patterns of select NCAA Division-I athletic directors to see if they have capitalized on opportunities to hire women coaches of women's teams. This research is meant to hold those in positions of power accountable for their decisions, and ultimately to point to the need for changes within hiring practices to see the number of women in leadership and coaching positions increase."
Boucher's work also helps the Tucker Center achieve more and greater impact on the communities they serve.
Tucker Center director, Dr. Nicole M. LaVoi stated, "Our Borton fellows have advanced the Tucker Center research initiatives in ways I could not have envisioned. We have the privilege of attracting the best and brightest students who are passionate about women in sport leadership and who want to help create social change, and Courtney is no exception. She is innovative and has a unique way of translating data to public facing formats, in addition to providing mentorship and leadership for our summer interns."
Boucher and her research assistant colleagues, ranging from high school students to PhD candidates, bring a much needed fresh perspective and energy to the work happening in the Tucker Center.
"I'm honored to be given the opportunity to help contribute to the Tucker Center's incredible and important research mission," Boucher said. "I want to thank Pam Borton and Lynn Holleran in particular for their support and for being such incredible women leaders in sport who have paved the way for me and countless others."
If you would like to contribute to the Pam Borton Endowment for the Promotion of Girls and Women in Sport Leadership fund to help students like Courtney, see more information here.